Start Date: 12/20/2019

End Date:03/15/2020
Christmas Gifts(Loot crate containing Weapons, Skins, Wings and Cosmetics)
Players can open Christmas Gifts with Christmas Shards (chance to drop from Ranked Matches) or Christmas Keys (purchased).

How to obtain Christmas Shards: Ranked matches will have 50% chance to drop Christmas Shards, members on the winning team will gain 5-10 shards, and members on the losing team will gain 1-10 shards.

How to obtain Christmas Keys: purchase with Energy Credits.
Individuals on the winning team will have 10% chance to obtain a GenesisPass Level Pack (can be used any time to level up your GenesisPass by 1 level).
Pre-battle Communication System (Role Call)
Press Triangle in Hero Select to communicate with your teammates on what class, lane and hero you wish to choose.
Crucible Gear Blueprint and Epic Gear Blueprint can now be opened in batches.
Christmas Themed Lobby and Map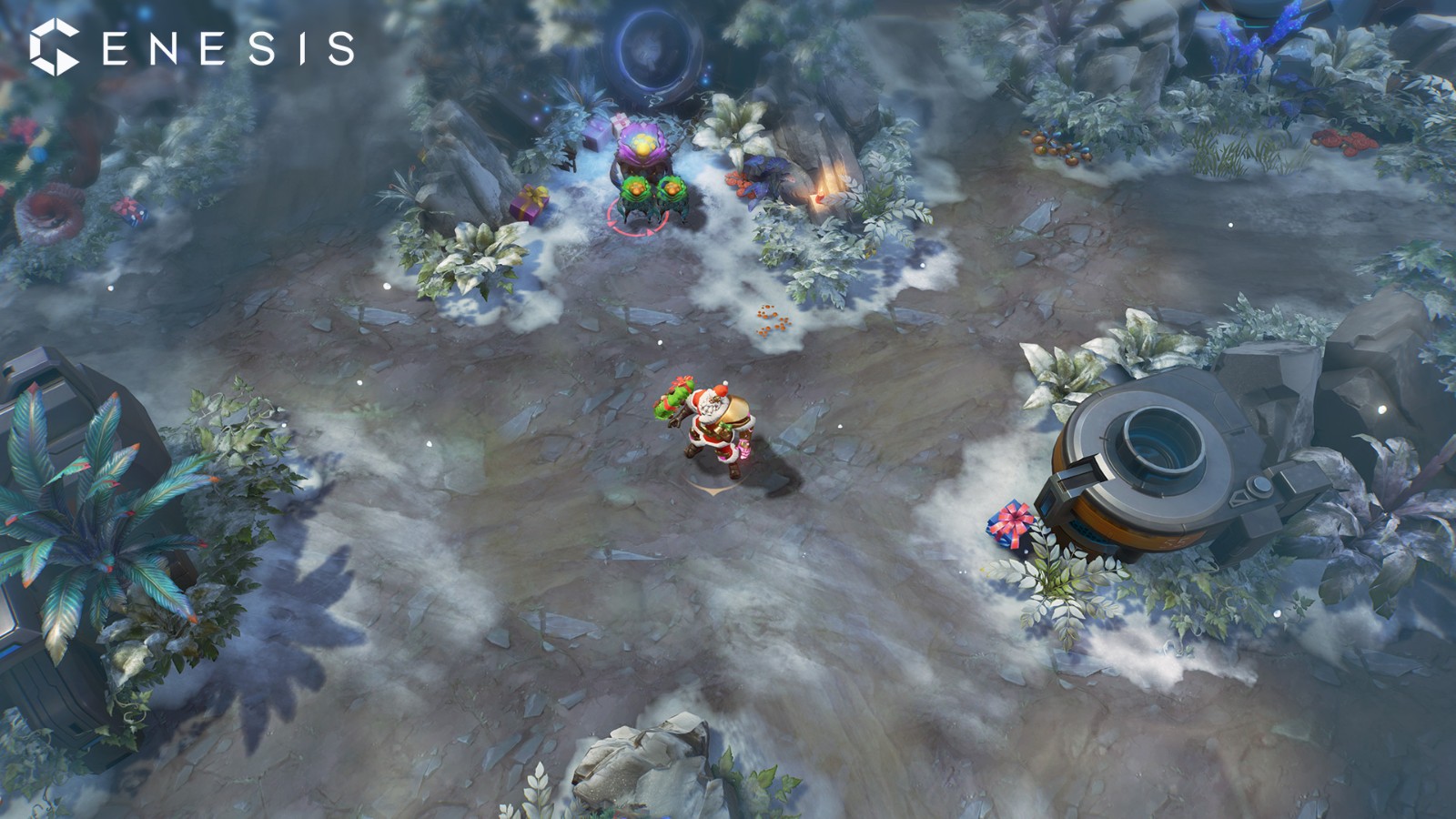 All heroes are Free to Play
Start Date:12/23/2019

End Date:01/01/2020
Ramodin

Concussive Salve:Basic damage decreased from 80/120/160/200 to 60/100/140/180
Krayn

Basic attack damage decreased by 5

Attack range decreased from 525 to 500

Tactical Loadout:Percentage damage from split arrows decreased from 25%/35%/45% to 24%/32%/40%
Nemo

Body Slam now only deals half the damage to Nemo
Zeus

Cloud Chariot:Cooldown increased from 30/25/20/15 seconds to 40/35/30/25 seconds
Angie

Tractor Beam:Slow effect increased from 15%/20%/25%/30% to 25%/30%/35%/40%
Medusa's Shield:Prince increased from 3800 to 4300
Optimized special effects/animation of Legendary and above quality Skins and Weapons
Fixed the bug causing Angie's turrets to be invisible to enemies if they were constructed in the fog of war

Angie can now construct all 5 turrets in PVE

Fixed the bug causing Angie's turret to not agro enemy turret even when hitting enemy hero

Fixed the bug causing Angie to not get the assist with her turret

Fixed the bug causing Friend List to be wiped